What are your first thoughts when you see security window screens, security window grills or security window bars? Mine are either that it's not such a safe neighborhood or that maybe the tenants have something worth protecting. Both are warning signs to thieves and predators. However, there is a fresh alternative to these security window coverings. They are called security window shutters and they can be placed on the exterior or interior of your home or business.
These security shutters for home are typically hidden during the day by rolling up into a coil above the window. When closed, the security window shutter closes in front of the glass window or door and seals it completely. They are tested to withstand hurricane force winds and baseball bat strong and they offer a visual deterrent. The security window shutters exterior can be motor operated so you can open and close with the push of a button.
If you are building a new home, security shutters residential can be "built into" the eaves or construction so as to be virtually invisible from the outside. They are much more aesthetically appealing than the standard security window bars.
Start protecting your home today!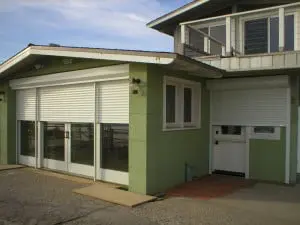 Call us at 877.656.DOOR or fill out our contact form and our staff of friendly, well-trained consultants will quickly respond to discuss your needs and inform you of your options. Need an estimate? Fill out our FREE ESTIMATE form and we'll give you a quote for your project. We're Southern California's premier one-stop source for rolling shutters that provide security, protection, and privacy to your home or business. We've been serving the Ventura County and Santa Barbara County area including Camarillo, Fillmore, Newbury Park, Oak Park, Ojai, Oxnard, Port Hueneme, Santa Paula, Simi Valley, Thousand Oaks, Ventura and Westlake Village since 1992 and have helped countless homeowners and commercial property owners just like you choose the right Rolling Security Grilles, Privacy Shutters, and European Roll Shutters.