Sliding Glass door shutters can be an effective way to secure your sliding glass door from vandals and thieves. Think about it, the sliding door is the largest and most easily accessible entry point. Plus, most of them are in the backyard and not visible from the street. How easy it is for someone to jump the side fence while you are away and then break the glass and walk out the side gate like they are just loading their own stuff in their car?
Sliding door shutters are a stylish alternative to the more commonly known Sliding security grilles or unattractive bars. Sliding shutters for sliding glass doors are tucked out of sight when you don't need them and can be closed and secure the glass on your sliding security door at the touch of a button.
That's exactly what we are here to help you with! Sliding security shutters or also known as sliding door shutters will protect your home and valuables and give you peace of mind while you are away from home.
Call So Cal Rolling Shutter today to learn more about the benefits of shutters for sliding glass doors and receive a free consultation. 805-482-9619
Start protecting your home today!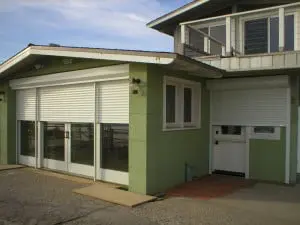 Call us at 877.656.DOOR or fill out our contact form and our staff of friendly, well-trained consultants will quickly respond to discuss your needs and inform you of your options. Need an estimate? Fill out our FREE ESTIMATE form and we'll give you a quote for your project. We're Southern California's premier one-stop source for rolling shutters that provide security, protection, and privacy to your home or business. We've been serving the Ventura County and Santa Barbara County area including Camarillo, Fillmore, Newbury Park, Oak Park, Ojai, Oxnard, Port Hueneme, Santa Paula, Simi Valley, Thousand Oaks, Ventura and Westlake Village since 1992 and have helped countless homeowners and commercial property owners just like you choose the right Rolling Security Grilles, Privacy Shutters, and European Roll Shutters.